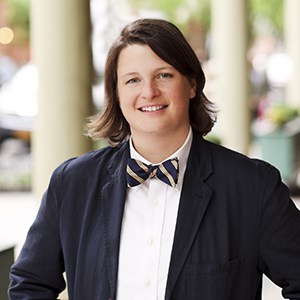 Associate Broker | The Christopher Group, LLC
About Caitlyn
A dynamic self-starter with a strong creative streak, Caitlyn brings a fresh approach to real estate that is highly personal and informed by her nearly 10 years experience in successful sales roles.

Caitlyn's confidence and passion for her work immediately puts clients at ease in what can be a daunting process. Incredibly knowledgeable and dedicated to keeping them informed every step of the way, Caitlyn lets her clients know they're in capable hands. With deep expertise in both the Brooklyn and Manhattan markets, and a broad base of experience helping buyers, renters and sellers, both domestic and international, Caitlyn is a one-stop-shop no matter her clients' real estate needs.

Prior to joining residential real estate, Caitlyn frequently attended community meetings and hearings to scout new leads. It's a tactic she uses to this day to stay abreast of the latest neighborhood news and developments. Her previous experience as a transportation executive and serving on the board of trustees for her childhood school taught her how to create long-lasting relationships and build consensus. It's no surprise that as a successful New York real estate professional, she's built an enviable list of repeat clients and enthusiastic referrals.

Caitlyn holds a bachelor's degree in philosophy from St. Lawrence University.
Click here for the link to my page in NYC.